What is the FSFL
The Faecal Sludge Field Laboratory is an open-source development which can be used for process and effluent quality control of faecal sludge and wastewater treatment plants at site and close in-time. The Faecal Sludge Field Laboratory allows treatment plant operators to analyse the influent and effluent products (liquid, solid) for continuous monitoring and plant optimisation.
The FSFL has been designed according to the following four design criteria:
Appropriateness – must provide comparable results to a standard laboratory
Applicability – must be operable under field conditions
Affordability – must be cheaper than standard laboratory solutions
Mobility – must fit into a Toyota Landcruiser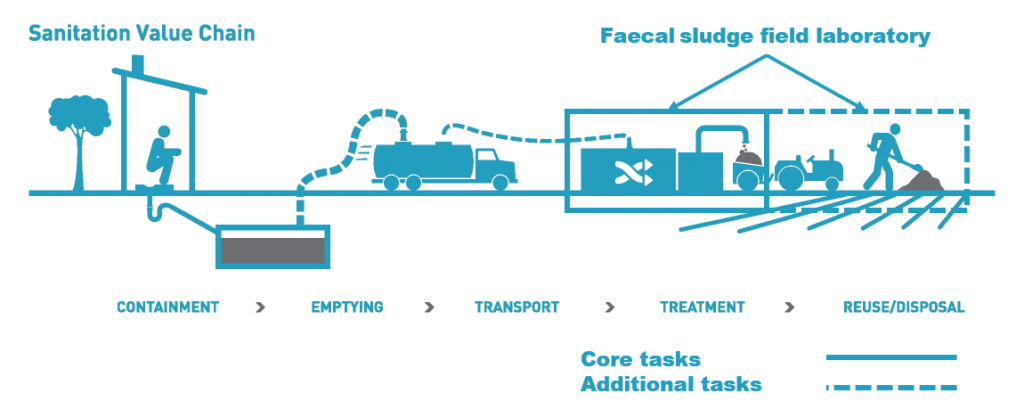 Next to the development of laboratory equipment in projects a training concept was established. The Faecal Sludge Field Laboratory has been developed for use in emergency response operations, but can support development cooperation projects.
The Faecal Sludge Field Laboratory is also designed to be flexible and adaptable. The laboratory has been designed to enable monitoring of a wide variety of available treatment processes with the most common parameters. This full configuration is seldom needed, other than in training laboratories, and the parameter list is adapted to each specific treatment plant. Further, the equipment has been split in modules to ensure that the laboratory can be adapted to local conditions (e.g. availability of PPE, power supply).
The FSFL concept
The whole sum of innovations around the Faecal Sludge Field Laboratory has now been consolidated into the Faecal Sludge Field Laboratory Concept. The Faecal Sludge Field Laboratory Concept consists of
Standardized equipment
Standardized training concept
Not yet developed parts of the concept

standardized process control parameters
standardized effluent quality control parameters
The development of the Faecal Sludge Field Laboratory was funded by the Humanitarian Innovation Fund and supported by the Swiss Agency for Development and Cooperation. The Faecal Sludge Field Laboratory was developed and is kept alive by a number of organizations. More information on them can be found in the Partner section.
What can be found here
Faecalsludgefieldlaboratory.com is used to
The Faecal Sludge Field Laboratory has to evolve to incorporate the latest technological developments and lessons learned from laboratory deployments. This page will be used to publish any changes in the laboratory concept.
Why is the Faecal Sludge Field Laboratory needed
The aftermath of the 2010 earthquake in Haiti and subsequent Cholera outbreak the humanitarian aid WASH community started the development of emergency response Faecal Sludge Management solutions. Especially during humanitarian aid operation the protection of public health and the environment from un- or insufficiently treated faecal sludge is highly important. In Phase I of the Emergency Sanitation Project the project consortium realised that any faecal sludge treatment plant requires laboratory monitoring of the treatment process and effluents, but by 2015 no field deployable and customized laboratory kits were available on the market. IFRC, part of the Emergency Sanitation Project, approached the Austrian Red Cross to set-up a project consortium, find funding and develop a laboratory solution for field faecal sludge treatment plants.
Use of the FSFL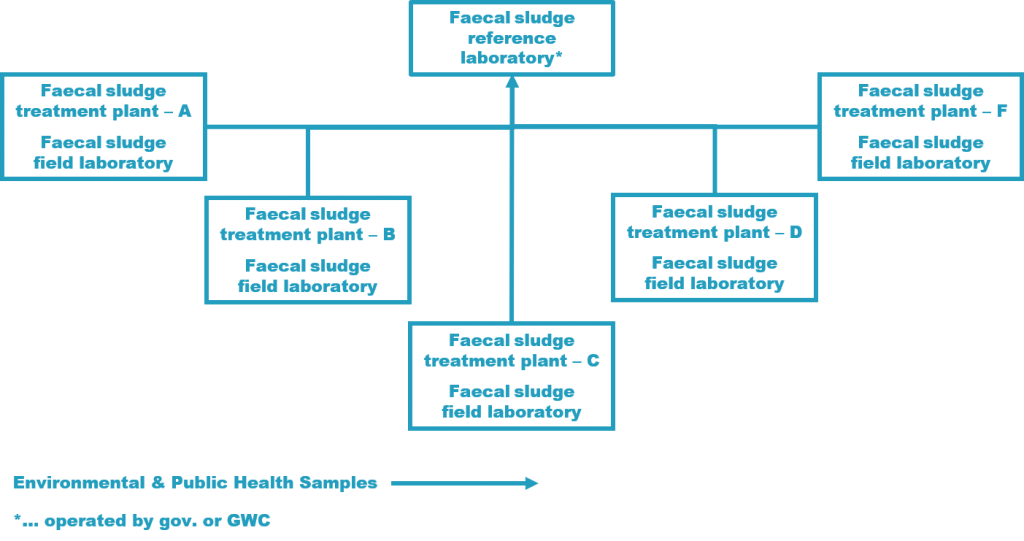 The Faecal Sludge Field Laboratory was designed to be used in humanitarian settings and to be set up directly at a field faecal sludge treatment plant. The laboratory is not reliant on a stable electrical mains connection. The laboratory can be powered by a small generator, supported by the included power supply unit which harvests solar and wind power to charge the batteries serving as the uninterruptable power source. The Faecal Sludge Field Laboratory can also be set up as
a regional training laboratory, where laboratory technicians can learn the various methods they can use on their missions.
Any organization implementing faecal sludge treatment systems has to monitor treatment process performance, including all products, in order to assess system and component performance against intended goals and local regulations and to facilitate system improvements. Thus, laboratory services for internal monitoring are an essential component of faecal sludge treatment. In addition to process monitoring of the treatment plant by the plant's operator, local institutions and authorities are also required to monitor treatment plant effluent to assess regulatory compliance. During a humanitarian aid operation this might not be possible initially. However, on a longer-term basis, the goal should be for monitoring to be conducted by local institutions or authorities responsible for monitoring faecal sludge treatment performance. As this mandate for faecal sludge treatment performance monitoring is not widely recognized, implementation of the Faecal Sludge Field Laboratory can also serve a mechanism to raise awareness and train local institutions in relevant monitoring.